Fleet Street Crimson NTD ACT2 CL1 CL2-R CL2-H DJ
---

BAER/CERF: Normal
Embark DNA Tested
Liver/Dilute Color Tested: Normal
PLL/SCA/LOA/DM/HU: Normal
DOB: 06/16/2018
12"/Tricolor/Lightly Broken Coat

Crimson (aka Ruby) is a lovely girl with a fabulous temperament, lovely structure, and a great coat. We absolutely love her. She is serious, thoughtful, and relatively laid back - but she occasionally shows her silly side, and she certainly isn't lacking in drive! Ruby started her show career out with a bang by taking Puppy Conformation Champion at Spring Fever II. Ruby has started competing in agility, barn hunt, and dock diving, and she has also earned her Novice Trick Dog title. She is lightning fast in Super Earth and GTG.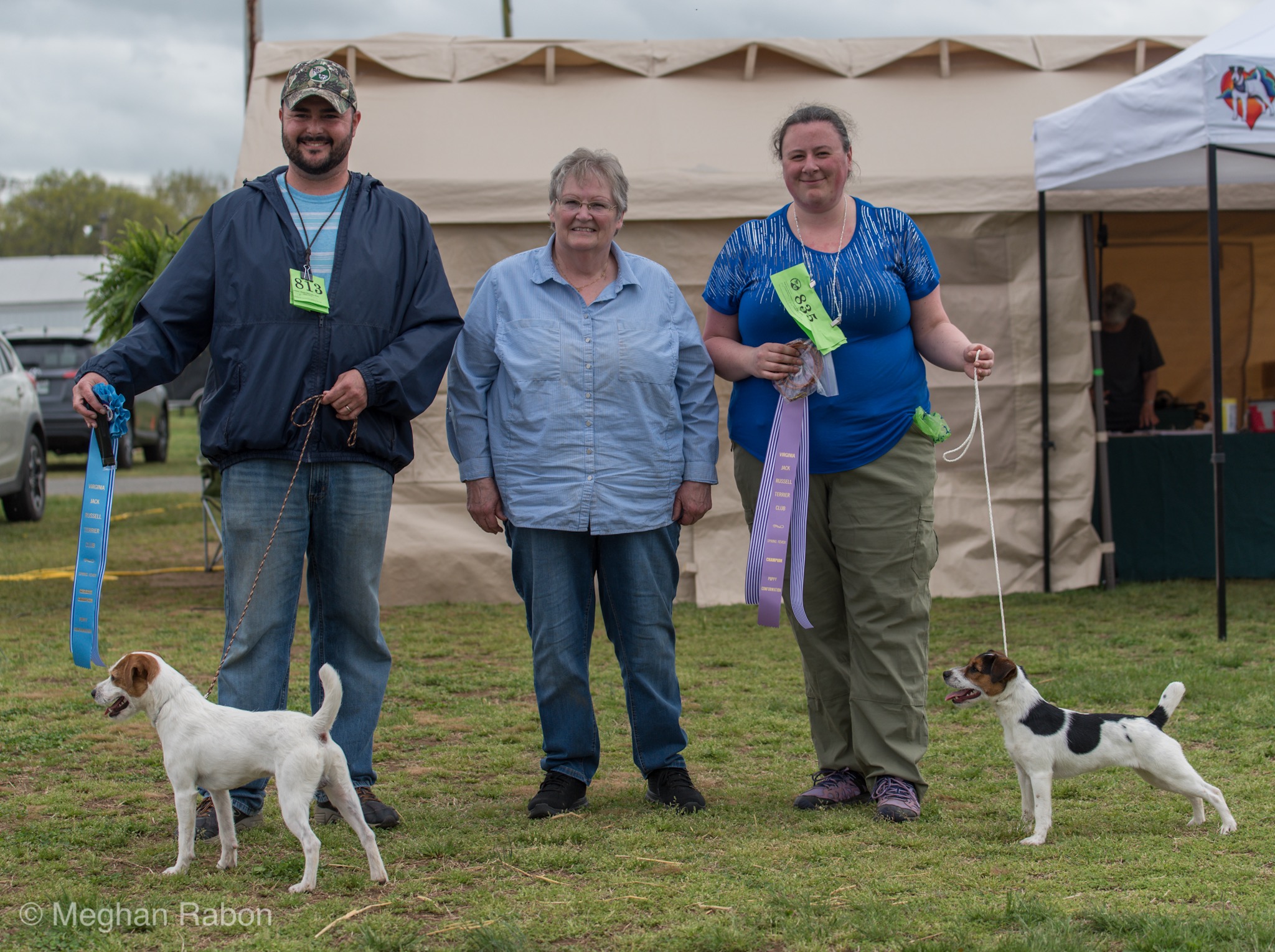 Ruby winning Puppy Conformation Champion at Spring Fever II in VA, April 2019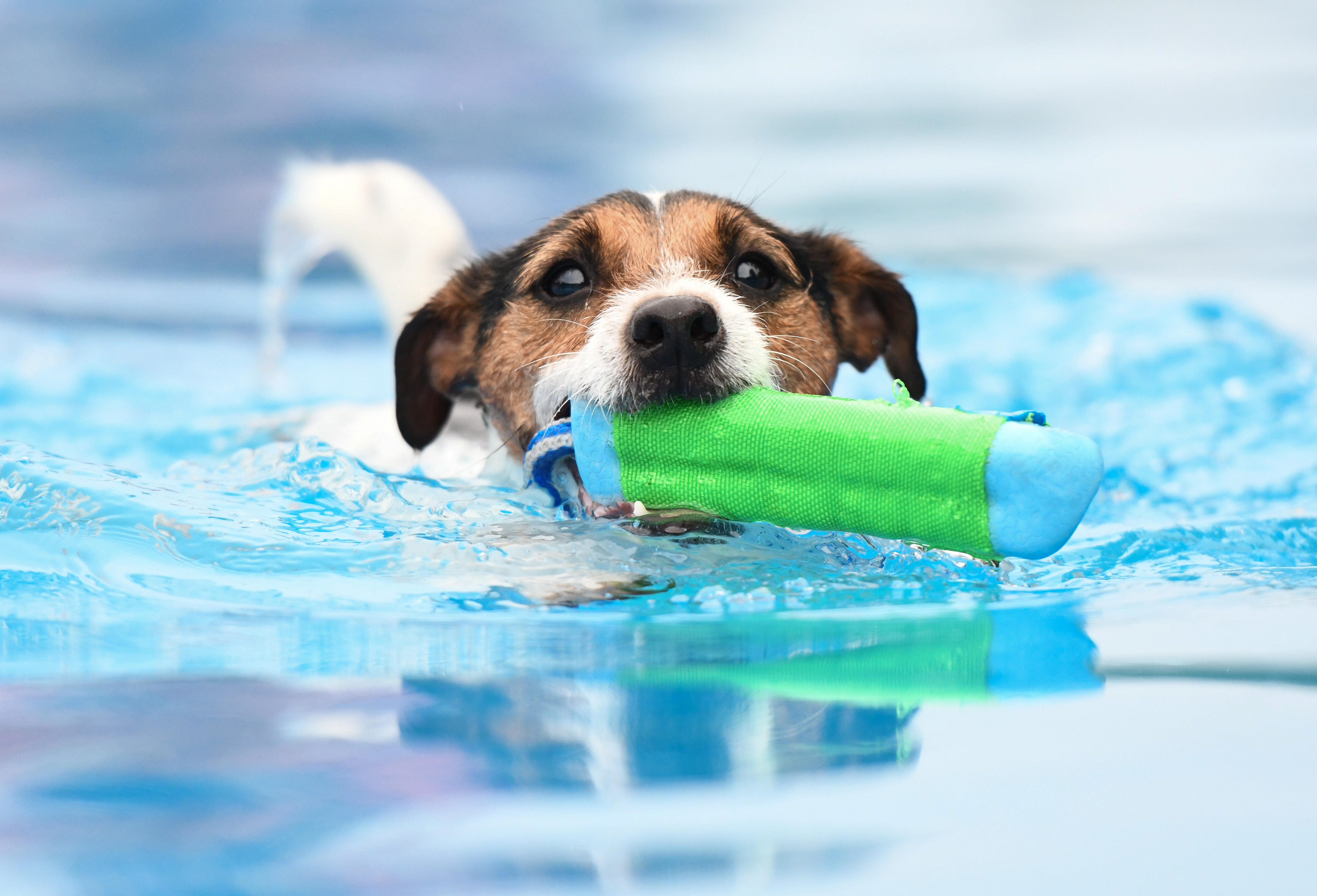 Ruby at a dock diving trial

Ruby dock diving at the 2021 Freehold AKC Classic

Ruby with her Champion and Reserve Champion Super Earth and Go-to-Ground Ribbons, September 2021
Ruby's accomplishments:
Date
Title/Result
4/13/2019 - 4/14/2019
Spring Fever I
1st - Conformation
2nd - Ball Toss

Spring Fever II
1st - Conformation
Best Bitch Pup
Puppy Conformation Champion
3rd - Barn Hunt
4/27/19 - 4/28/19
Mason Dixon VII
4th - Conformation
1st - Lure Coursing
Mason Dixon VIII
4th - Conformation

5/25/19 - 5/26/19

Yankee I
1st - Conformation
3nd - Novice Puppy GTG


Yankee II


1st - Conformation
2nd - Novice Puppy GTG


8/31/19 - 9/1/19

Northgate Terrier Trials
1st - Conformation
4th - Agility (Jumpers)

9/14/19 - 9/15/19

JRTCC National Trial
1st - Conformation
3rd - Ball Toss
3rd - Foreign Bred Conformation

10/11/19 - 10/13/19

JRTCA National Trial
2nd - Conformation

2/8/2020

CPE Agility
Two Q's earned in Level 1

4/9/2020

Trick Dog
Ruby earned her NTD (Novice Trick Dog) title


5/30/2020

Agility
Ruby earned her ACT1 and ACT2 agility titles at Golden Rule


5/31/2020

Barn Hunt
Ruby earned the first leg of her RATN with a High in Class and a time of 15 sec


6/27/2020

CPE Agility
Ruby earned her CL1-H agility title at Honey Brook's agility trial.


6/28/2020

Barn Hunt
Ruby earned the second leg of her RATN with a 1st place!


8/1/2020

CPE Agility
Ruby earned 5 Q's today, and her CL1-S and CL1-R titles. She also earned her first Level 2 Q.


8/22/2020

CPE Agility
Ruby earned her CL1-F title which completed Level 1. She also earned two Level 2 Q's.


9/5/2020 - 9/6/2020

Northgate Terrier Trials
Saturday
1st - Conformation
5th - Agility (Tunnelers)
3rd - Agility (Full House)

Sunday
1st - Conformation
5th - Thunder Tunnel
5th - Agility (Colors)
1st - Open Super Earth

9/27/2020

Freehold AKC Cluster
NADD Dock Diving
Ruby had three qualifying jumps at her first NADD Dock Diving event!

11/1/2020

JRTCA Museum Trial
1st - Conformation
1st - Open GTG


4/4/2021

CPE Agility (Barto, PA)
Ruby earned three Level 2 Q's

4/17/2021

Mason Dixon Terrier Trial
3rd - Championship GTG
6th - Championship Super Earth
3rd - Conformation

5/28/2021

NADD Dock Diving - AKC Jersey Shore Cluster
Ruby had four qualifying jumps (2 novice, 2 junior).

6/12/2021

JRTCA Museum Trial
3rd - Conformation
5th - Ball Toss
3rd - Championship GTG

9/4/2021 - 9/5/2021

Northgate Terrier Trials
Champion - Adult Under GTG (Saturday)
6th - Agility (Tunnelers)
3rd - Agility (Standard)
Reserve Champion - Adult Under GTG (Sunday)
Reserve Champion - Adult Under SE (Sunday)

10/1/2021

NADD Dock Diving - Freehold AKC Classic
Ruby earned her Dock Junior (DJ) title.

10/8/2021-10/10/2021

JRTCA National Trial
1st - Agility 1
3rd - Jumpers

11/14/2021

CPE Agility
Ruby earned 4 Q's and her CL2-R and CL2-H titles.

5/21/22 - 5/22/22

Yankee JRT Trial
3rd place - Championship GTG (both days)
3rd place - Championship Super Earth (both days)
1st - Agility 1 (both days)
Completed Agility 1 Trial Certificate

6/11/22 - 6/12/22

JRTCA Museum Benefit Trial
Saturday
Reserve Champion - GTG
Sunday
Champion - GTG
4th - Super Earth