Little Eden "Prim"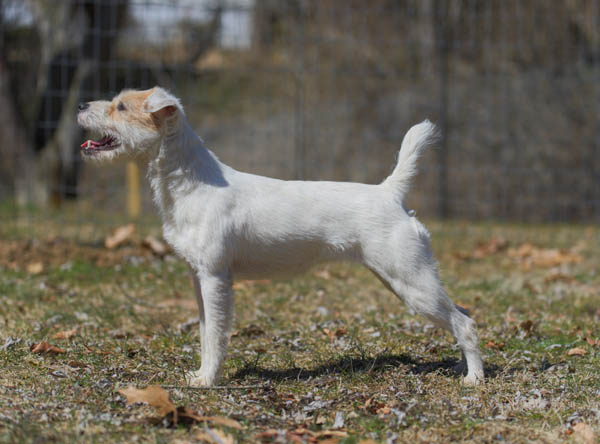 Photo &copy Michelle Ward

BAER/CERF: Normal
PLL/SCA/DM: Normal by Descent
DOB: 2/1/18
Tricolor/Rough Coat

Prim is a dream come true! Her pedigree is stacked with many of my favorite dogs. She's a sweetheart with lots of drive. She's shown very well so far as a puppy, and is currently learning the ropes on the agility course.
Prim is co-owned with Michelle Ward.
Prim's accomplishments:
Date
Title/Result
June 9-10, 2018
Breezewood Terrier Trial
2nd in 3-6 month bitches
Reserve Best 3-6 Month Puppy
2nd in Rat Hunt
August 11, 2018
Yankee Terrier Trial
1st in 6-9 Month R/Br Bitches
Reserve Best Bitch Puppy
Reserve Champion Puppy
September 1-2, 2018
Northgate Terrier Trial
3rd and 6th in Conformation
1st and 2nd in Ball Toss
September 15-16, 2018
JRTCC National Trial
1st Place, 6-9 Month R/Br Bitch Pups
Best Bitch Puppy
National Champion Puppy
October 12-14, 2018
JRTCA National Trial
6-9 Month R/Br Bith Pups - 3rd Place
April 13-14, 2019
Spring Fever I
5th - Conformation

Spring Fever II
2nd - Conformation

May 25-26, 2019
Yankee I
4th - Conformation

Yankee II
3rd - Conformation

Photo &copy Michelle Ward