Fleet Street Twister RLPX RL1 RATN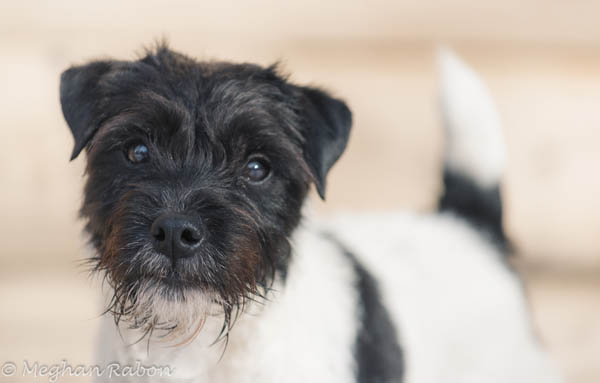 BAER: Normal
CERF/CAER: Normal (01/2017)
PLL/SCA/DM: Normal by Descent
DOB: 6/16/15
Black & White/Rough Coat/12 1/4"
Our first homebred puppy has been a long time in the making - but Twister was worth the wait! She is a lovely mover with very nice conformation and a thick roughcoat. She has a wonderful temperament, and is especially good with other dogs. Twister is exceptionally sweet and she charms everyone she meets! She has shown well in conformation. Highlights include first place in the Pairs class (with her sire Little Eden Halfpipe) and 6th in the Bred-by-Exhibitor bitch class at the 2016 JRTCA National Trial Twister has had a successful start to her Rally Obedience career, earning her WCR Rally Level Puppy title with an Award of Excellence at just 7 months old, and her Rally Level Puppy Championship at 10 months old. She's also earned her Level 1 title (with an AOE) and the first leg of her Level 2 title. Twister was the 2017 Rally I and Rally II Canadian National Champion! Twister has also started her agility training, which she really enjoys! We hope to start trialing her in late 2017.
Twister's accomplishments:
Date/Title
1/31/16 - RLP (AOE)
WCR Rally Level Puppy - Award of Excellence (All qualifying scores over 190).
Scores of 207-207-207, High Combined Puppy
4/9/16 - 4/10/16
Spring Fling Trial
2nd and 5th Place, 9-12 month rough/broken bitches
2nd and 3rd place, 6-12 month lure coursing.
4/24/16 - RLPX
Rally Level Puppy Championship - awarded for having 4 qualifying scores in the B class.
May 2016
Breezewood Terrier Trial - first place in Lure Coursing both days. Placements in conformation (Suitability to Red Fox, Bred-by Owner Puppy, and 9-12 month puppy classes).
7/2/16-7/3/16 - RATI
Barn Hunt Instinct title - 2 legs of her RATN (Novice) title were also earned; one run was High in Class with a time of just 15 seconds!
9/3/16-9/4/16
First legs of JRTCA Rally 1 and II trial certificates earned at Northgate Terrier Trial with scores of 200 and 196. Received Rising Star award for the dog showing the most promise in obedience/rally.
9/24/16 - RATN
Twister received her Novice Barn Hunt title today with a first place at Stonehedge Kennel in Andover, NJ.
10/7/16-10/9/16
JRTCA National Trial: Competed in Rally-O, lure coursing, GTG, and conformation. Conformation: First place in Pairs class with her sire, Little Eden Halfpipe, and 6th place in a large Bred-by-Exhibitor class. Placed in Rally I with a score of 207. Earned Novice and Open GTG certificates.
11/26/16-11/27/16 - RL1 (AOE)
Twister earned her WCR Level 1 title with an Award of Excellence. She also earned the first leg of her RL2 title.
9/2/17
Northgate I - 3rd in Rally I, 6th in Rally II, 2nd in Novice Obedience, 3rd in Open Obedience, 4th in Suitability to Groundhog.
9/3/17
Northgate II - 2nd Bred-by-Exhibitor Bitches, 2nd in Suitability to Groundhog.
9/16/17 - 9/17/17
JRTCC National Trial
Rally I National Champion, Rally II National Champion
3rd in Suitability to Groundhog
6th in Bred-by-Exhibitor Bitches
10/13/17 - 10/15/17
JRTCA National Trial
Rally I - 6th Place, Rally II - 4th Place, Open Obedience - 5th Place, Suitability to Groundhog - 3rd Place, Q'd in Novice Obedience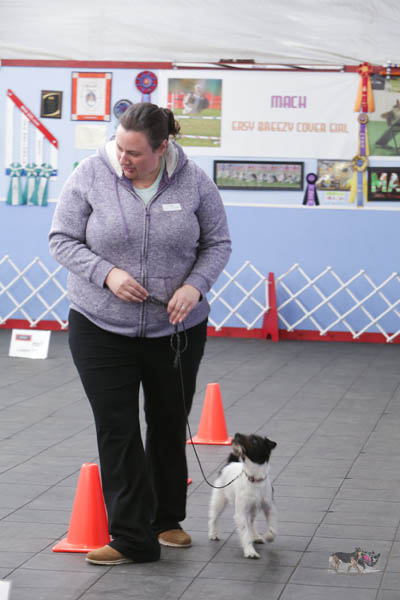 &nbsp
Twister lure coursing at 9.5 months old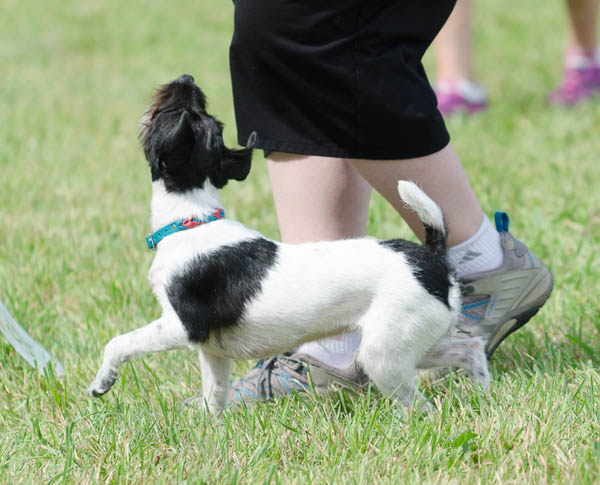 Twister in Rally II at 14 months old.
Twister trying out agility at Northgate 2016.