ARCH Little Eden Sangria (aka Cricket) RL1X RL3 RATO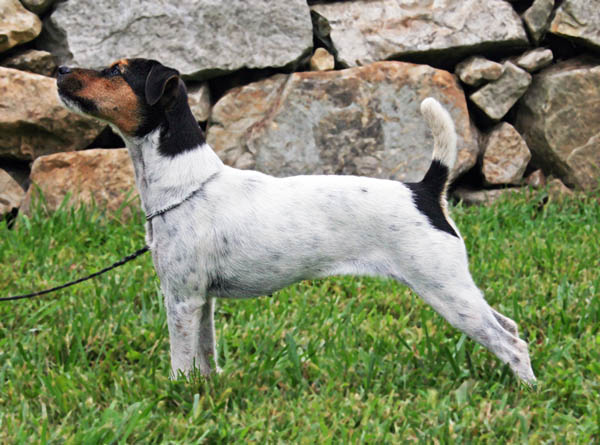 CERF/BAER: Normal
PLL/SCA: Normal by Descent, LOA normal, DM Normal
DOB: 6/12/11
12.25"/Tri/Lightly broken
Cricket is a little spitfire! She is full of terrier attitude and is a tireless hunter - but is also the perfect housedog when not working.
She has had a great rally career, earning her RL1, RL2, and RL3 with Awards of Excellence, as well as her Rally Championship (ARCH) and Level 1 Championship (RL1X). She's also earned JRTCA trial certificates in GTG, Super Earth, and Rally.
Cricket has produced very nicely and we are very grateful to Michelle Ward for allowing us to own this special terrier!
Cricket's accomplishments:
Date/Title
Description
2011
Placed in puppy conformation at the 2011 JRTCA National Trial
8/31/13
Obedience/Rally-O Reserve Champion at the 2013 Northgate Terrier Trial
1/26/14 - RL1 (AOE)
WCR Rally Level 1 - Award of Excellence (All qualifying scores over 190)
4/12/14 - RL2 (AOE)
WCR Rally Level 2 - Award of Excellence (All qualifying scores over 190)
10/12/14 - RL3 (AOE)
WCR Rally Level 3 - Award of Excellence (All qualifying scores over 190).
Nationally ranked (tied for 3rd) in this category in 2014!
8/30/15 - ARCH and RL1X
Cricked received the last legs for her ARCH and RL1X today.
9/5/15 - Open Super Earth Certificate
Cricket earned her Open Super Earth certificate; it was only her 2nd time out!
7/2/16-7/3/16 - RATI, RATN
Cricket earned her Barn Hunt Instinct and Novice level titles, with High in Class placements for two of her three novice runs! She also received her first Open leg with a time of 1:38 and second place.
October 7-9, 2016
At the JRTCA National Trial, Cricket competed in Rally-O; she placed 4th in Level 1 and Q'd in Level 2. She also competed in Championship Super Earth and Thunder Tunnel.
March 10, 2018
Cricket finished her Barn Hunt Open (RATO) title with a second place!
August 11, 2018
Yankee Terrier Trial - 1st place in Brood Bitch and Produce, Reserve Best Family.
Various
Placements in GTG, Barn Hunt, Obedience, Rally-O, Super Earth, Trailing & Locating, TNT Tunnel, and Conformation at JRTCA trials
---
Cricket is the dam of
Little Eden Remedy - 2x Canadian National Champion, NHC to raccoon.
Little Eden Soda - Res. Best Bitch Puppy, Yankee II, 2014
Fleet Street Nighthawk - 1st place, 3-4 month dog pups, Carolinas Autumn Fest II
Fleet Street Twister RLPX RL1 RATN ACT2 - Twister is excelling in both performance and conformation events.